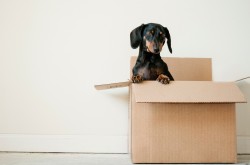 Moving home ought to be an exciting time of your life. A new home with new beginnings - but, in reality the moving experience can be stressful. Packing up all of your belongings and trying not to break or lose anything during the process isn't always easy.
So, to ensure your moving day goes as smooth as possible with less stress, we've listed below 8 essential packing hacks...
8 Packing Hacks when Moving Home
Wrap fragile items in thick fabrics
How much would you estimate the cost would be to buy all the bubble wrap you'd need to package up all your breakables, ensuring they arrive at your new home, intact?
Probably a fair price, right?
Now, consider all the thick materials you'd be packing anyway. The guest duvet, extra blankets, winter coats, curtains, throws, perhaps even some of your smaller sized rugs. Any thick material you have, instead of packing those separately, use them as bubble wrap. You get a kind of 2-for-1 by blanket wrapping fragiles with thicker materials you need to move anyway.
For your mattresses, double the sheets so the entire mattress is covered. It's easier to throw bed sheets in the wash than it is to clean mattresses.
Strengthen your cardboard boxes
Has this ever happened to you? You lift a cardboard box and everything falls right out the bottom of it. It's especially tragic when the box in question contains fragiles such as plates, mugs and glassware.
Before you pack any fragile items, consider giving those boxes some added reinforcement. Did you know kitchen roll tubes are extremely strong? For smaller sized boxes, you can place an empty kitchen roll tube in each corner of the box to give it added strength. For larger boxes, you may want to use duct tape, or the even stronger packing tape to join multiple kitchen roll tubes together to get the height you need.
Another option to reinforce your boxes is just to double them up. Since cardboard boxes are flatpack, with the right technique, a little twisting here and there, you'll be able to get one box inside the other, then build it up to have the strength of two boxes in one. Use these doubled up boxes for your fragile items.
Use coloured packing tape to stay organised
Packing your items for moving day is only half the battle. You've then to unpack everything at the other end. Make that less tiresome by colour coding your boxes so you know which room they go in. It'll save everyone less trips up and down stairs, and moving items around here, there and everywhere.
An assortment of coloured tapes are available, some in packs of 7 different colours making them the perfect choice for the organised home mover. A colour for every room. Far easier to work with than just writing on a box.
Pack the first night prep box
After the stress of moving from your old home to your new place, you'd be forgiven for wanting to kick back and relax. There's always tomorrow, right?
Pack a 'first night box' with nightwear, next day wear, and a toiletry bag with all the essentials. Some snacks and tea bags or a small tub of instant coffee won't go unused either.
Use your plastic containers for odds and ends
There always seems to be drawers filled with randomness. Old cables that you can't tell if you still need or not, screws, brackets, hand tools, kitchen utensils that didn't quite have a firm storage place and instruction manuals for devices that've been rendered only fit for the attic.
If you have air tight storage containers and jars for pasta, these are ideal for smaller items... As are the plastic storage containers used for picnics and used by takeaways to pack up your curries and rice. Give those takeaway tubs a cycle in the dishwasher and you have yourself storage tubs to pack smaller items like screws, nuts and bolts into.
Prep for moving your larger goods
White goods and flatpack furniture are going to take the most work to get moved. They are going to be heavy and even heavier if you try to move wardrobes and drawers with your belongings still in them. Some do, and if you're doing you own move, you could do that to save some packing. If you're using a moving company though, chances are, they'll insist you make their work as light as possible to minimise the risk of backs being thrown out. We'll get to the clothes packing hacks next, but for now, for the larger goods, plan to lessen the weight and take measurements to plan how you'll get them out.
As an example, if you have a wide chest of drawers upstairs with a twisting staircase, you've only two options to get it downstairs and out the door. Flatpack it entirely or check the measurements to see if it could be stood upright to fit down a twisting staircase without scratching the ceiling and walls on the way.
To lessen the load carrying heavier white goods, consider hiring a trolley jack from your local tool hire store or check on places online like the Facebook Marketplace to see if anyone is trying to get rid of moving trolleys or dollies.
Pack your clothes on hangers in bin liners
Bin liners can be used as alternatives to the clothes covers that dry cleaners use to give you your items back. Instead of packing up all your clothes and hangers separately, keep everything on the hangers and drop them into bin liners. An elastic band (or two) can be used to keep the hangers tight together, lessening the risk of the bags giving way.
Pack your handles inside the furniture
Drawer handles, wardrobe handles and any other piece of furniture you have with sticky-out parts are best put out of the way. If they're left in place, there's a chance they'll arrive at your new home missing a handle or two or they could damage walls and doors when being moved.
You can remove handles from furniture, stick them down either in a drawer, or to the door they came off of. Alternatively, screw them in back to front – on the inside of the drawer.
In Summary:
Reinforce cardboard boxes that're going to be used to pack fragile items
Use coloured tape to colour code what boxes are going to what rooms
Leave your clothes on hangers and wrap those in bin liners
Use small food storage containers to pack bits and bobs
Remove the handles from wardrobes and drawers to prevent accidental damage to the furniture or property
Plan how you'll move larger items by taking measurements to make sure you can get them out your old property and into the new home with minimum back and forth
Have a first night prep box packed with nightwear, next day wear and toiletries
Use all your thicker materials such as curtains and quilts to blanket wrap fragile items such as TVs, sofas, mirrors and picture frames.
In addition, remember this golden rule of packing: 30 lbs max per box! The larger the box, the more awkward is to carry. Make carrying boxes easier by cutting holes in the sides to use as handles. Small boxes, heavy items, large boxes, light goods. It'll keep everyone fit for the day, with nobody out of action with back pain.
If you're looking to move home and would like some advice, we'd be happy to help. Call us on 01925 499599 or pop in for a friendly chat.
---